Claim Your Power: Women Opening Doors for Women (WODW) 2017!
Event Details
Whether you're a seasoned veteran of WIN or a new member ready to get involved, Women Opening Doors for Women (WODW) is the event for you! WODW brings women of different backgrounds together to learn from each other's experiences, exchange valuable information and advice, and help each other along the road to success.
What is WODW? WODW commemorates the founding of WIN over 28 years ago when a group of women came together around a dining room table to help each other achieve professional success. The group committed to forming WIN to create opportunities for both young and established women to continue meeting, mentoring, and sharing resources with other like-minded women.
WODW consists of two parts: a networking reception with over 200 professional women followed by 20+ simultaneous dinner parties in private homes and businesses throughout DC. These dinners feature lively discussions on topics ranging from achieving success at work to mindful meditation to breaking the glass ceiling.
First, we'll meet at the Sixth & I Historic Synagogue for a reception to honor our Karen Mulhauser Award recipient and our Network of the Year award winner while enjoying dessert and wine. Afterwards, we'll break off to attend one of 20+ engaging, thought-provoking, and fun dinner party discussions around the city.
WIN welcomes and encourages male colleagues and friends to attend our networking reception and keynote address, but to celebrate WIN's mission, the dinners are reserved for those who identify as women, femme, or gender non-conforming.
How do I sign up for a dinner? Browse the dinner selections in the tabs at the top of the event page. (Each dinner is labeled with a number.) When you are ready to purchase your ticket, you will be prompted to select your dinner number of choice.
WHEN: Thursday, June 22, 5:30 p.m. - 7:30 p.m. (Dinners at 8:00 p.m.)
WHERE: Sixth & I Historic Synagogue, 600 I St NW (Gallery Place/Chinatown)
Once dinner tickets sell out, reception-only tickets will be the only option available. WIN cannot reimburse for unused tickets. However, you are permitted to transfer tickets to another person if you can no longer attend the event. To do so, please contact info@winonline.org.
Any questions? Please contact Amber English Coleman, WIN Events Director, at events@winonline.org.
Sixth and I is not a sponsor of this program.
This dinner is SOLD OUT!
Dinner 1: Arts & Culture Network
Keeping D.C. Cultured in the Era of Gentrification
No matter what brought you to DC - school, work, etc. - if you're anything like us, you've probably fallen in love with DC's unique culture and diverse neighborhoods. It's important to us to preserve this city's authenticity and lessen the ever-quickening demand for gentrification. At "Keeping D.C. Cultured in the Era of Gentrification," we'll hear from local professionals and experts on how to raise awareness about DC's gentrification problem, explore a thoughtful approach to living in DC, respect and preserve the city's rich culture, and make informed choices as consumers. We hope to learn how to be engaged, cultured members of our DC community and discuss tactics to be informed consumers in our neighborhoods, lessening the drive for gentrification across DC.
Hosted by Taylor Kuether
Confirmed Speakers:
Claire Cook, Administrative Organizer, OneDC
Gwendolyn Smart, Member of the ONE DC Shared Leadership Team
Dinner 2: Book Group & Pride Network
Reading for Resistance!
Reading as resistance takes many forms. Stories--both fiction and nonfiction--help to educate us about social justice. Libraries and independent bookstores can become hubs for community activism. And reading can be a powerful form of self-care, providing an escape when we need to take a (much-deserved) break. We believe this partnership is no accident; reading and resistance work depend on one another. WIN's Book Group and Pride Network will come together to discuss why these two things complement each other so effectively. We'll learn about literature-centered activism happening in the DC-community, and explore the vibrant connection between reading and community change.
Hosted by Emily Imhoff
Confirmed Speakers:
Eboné Bell, Tagg Magazine
Camisha L. Jones, Managing Director, Split This Rock
Dinner 3: Campaigns Team
It's Always an On Year
Join the WIN political campaigns team for a discussion about sustaining political activism and engagement when it's not election season and we are in the minority party with most positions of power dominated by white men. What ways are there to make our voices heard, especially when there aren't election campaigns to get involved in? How can we be proactive about making our voices heard? Our goal is for participants to leave this dinner feeling energized and with new ideas about how to become or stay involved.
Hosted by Heather Booth
This dinner is SOLD OUT!
Dinner 4: Congressional Council Liaisons
Why I Ran: A Night with Women in Congressional Leadership
Join us for a night of conversation centered on a woman's journey to Congressional office. In today's political climate it is critical that women run for office, but how do we break down the barriers and encourage more female participation in the political arena? Our featured Congresswoman will share her personal journey to office; discuss the powerful impact of women of color leaders on The Hill and highlight the weight that young, pro-choice Democratic women's voices carry in the current political discourse.
Hosted by Madalene Mielke
Confirmed Speakers:
Dinner 5: Environment Network
Life Cycle of D.C. Food: Sustainability from Start to Finish
Join the Environmental Network for a lively discussion on the life cycle of food in the DMV area and discover how you can make more responsible decisions about where you buy, consume, and how you dispose of your food! You'll learn from dynamic and experienced women pioneering sustainable practices in the local food scene about how you can get involved and engaged in making DC a sustainable city. You'll not only leave the conversation with a full belly, but also walk away with tips and tricks on incorporating food sustainability into your personal life, a greater understanding of how our local food system works, and connections with some fantastic female-owned and operated businesses.
Hosted by Andrea Larue
Confirmed Speakers:
Nancy Gardetto, Copper Penny Farm, Hanover, MD
Tambra Raye Stevenson, Founder/CEO, WANDA (Women Advancing Nutrition, Dietetics, and Nutrition)
Dinner 6: Food Network
Navigating a Career in Male Dominated Fields
A female chef, tech entrepreneur, and local business owner walk into a bar... but what do they have in common? They are all navigating careers in male dominated fields. Whether you are trying to break into a male dominated field or are mid-career looking for tips on how to succeed, this dinner party is perfect for you. Hear from accomplished speakers in all three fields as they share their personal journey to gain success. Participants will walk away with leadership tips and a network of support.
Hosted by Annie Burns, GMMB
Confirmed Speakers:
Shanaz Chowdhery, Regional Director of General Assembly
Susan Barocas, Chef, Author, Filmmaker
This dinner is SOLD OUT!
Dinner 7: Government Network
#SheInspiresMe - Running And Winning
"Power can be taken, but not given. The process of the taking is empowerment in itself" - Gloria Steinem
This dinner is for women who are passionate about increasing the number of women in elected office! We know that together, we can build a more effective government when it reflects the same diversity as the people it serves.
Senator Kristen Gillibrand of New York stated in a recent NY Times article, "It took 10 years volunteering to have the actual self-confidence to say, 'I can run for office,'". "Women are the biggest self-doubters." When women run for political office, they are just as likely as men to be elected. The main reason they are so underrepresented is that they don't run in the first place.
Right now, in 2017 there only 5 Women Governors in each of our 50 states - that's 10%. There are 19.4% of women in congress (104/535). There is not one state where there are more women legislators than men. Vermont, is the most equal, with only 40%.
This dinner will discuss why women do not run at the same rate as men, how women can start preparing themselves to run for office themselves, how they can help others to run for office, and to help facilitate the pipelines that are necessary for women. We will make sure to discuss why women do not run - even if they are qualified, the how to deal with biases and female rivalry in the workplace, and answer any questions you may have.
Hosted by EMILY'S List
Confirmed Speakers:
Sarah Elfreth, Candidate for Maryland State Senate
Lucinda Guinn, Vice President of Campaigns, EMILY's List
This dinner is SOLD OUT!
Dinner 9: Immediate Past Chair's Dinner
Losing My Party: Fighting for Reproductive Rights in the Democratic Party
What does it mean to be an advocate for reproductive rights in the Democratic Party? Since the election, our party has been doing some soul searching to find a path forward. We have seen attempts to cut Planned Parenthood funding and other antichoice attacks in Congress and across the state yet some believe that this is a negotiation part of our platform. During this dinner party you will hear from prochoice advocates about how we can move our party forward with a fully prochoice agenda. We will strategize about what we need to do to ensure the Democratic Party doesn't compromise on our rights. This will be a night to plan next steps in this movement, so come prepared to dig in and get active!
Hosted by Katie Breslin
Confirmed Speakers:
Chitra Panjabi, President & CEO, SIECUS* (Speaking in their personal capacity)
Jeryl Hayes - Assistant Director of Public Policy, Physicians for Reproductive Health* (Speaking in their personal capacity)
This dinner is SOLD OUT!
Dinner 10: International Network
Closing the Confidence Gap: Empower Yourself to Change the World
What is one of the biggest barriers to women achieving their career goals? A lack of confidence, notably from internalized bias. As a result, women tend to see themselves as less qualified for positions and are more likely to suffer from Imposter Syndrome. This "confidence gap" contributes to continued under-representation across sectors and industries, including international affairs and security.
As with most things, women have to take it upon themselves to close that gap. This dinner will challenge you to rethink the way you see yourself and enhance your presence in the eyes of others, in addition to helping you discover techniques and resources to counter negative self-image and habits.
You will learn how to:
Boost your confidence with proven tips and techniques

Excel in a Male-Dominated Workplace

Counter manterrupting and mansplaining

Identify mentors, sponsors, and role models

Build and utilize networks
Our speakers have battled their own struggles of self-doubt and rose above it to successfully advance their careers and that of others along the way. During the dinner, you will partake in meaningful conversation and interactive exercises with the goal for you to leave with a greater sense of self-worth, a stronger network, and the ability to claim your power.
Hosted by Karen Mulhauser and Alice Cohan
Confirmed speakers:
Christa Davis, Life & Leadership Coach, Christa Davis Coaching
Geraldine Gassam Griffith, Foreign Service Officer
Jamie Maniscalo, Finance Director, Emerge America
Dinner 11: Lobbying & Advocacy Network
Navigating Paid Family Leave
Paid leave was one of the hottest political topics of the past year and rallied unconventional partners to build a grassroots coalition in support of a common cause. The Lobbying and Advocacy Network has invited stakeholders involved in the D.C. paid leave campaign to discuss why and how the Universal Paid Leave Amendment Act was introduced and passed and how it affects D.C. employees. Dinner guests will leave with a better understanding of what comprises a successful political advocacy campaign, as well as how they can best advocate for the time off they need in a new or current job.
Hosted by Rachel Lyons
Confirmed Speakers:
Alli McCracken, Campaign Manager, DC Paid Family Leave Campaign
Dinner 12: Nonprofit Network & Communications Network
How to Handle Your @handle: Balancing Professional and Personal Social Media Use
In the age of the Twitter presidency, the line between professional and personal social media use can often be blurred. Nonprofits and other organizations ramping up their digital advocacy efforts must figure out how to advance their cause in a way that is professional yet personable. Additionally, as individual social media use comes under close scrutiny, understanding your permanent digital footprint is increasingly more important – whether for jobs, school, or other networks and relationships. This dinner will discuss how to navigate the balance between the two, manage your online presence, and embrace the overall craziness that is today's Internet.
Hosted by Amelia Esenstad
Confirmed Speakers:
Beth Becker, Founder of Becker Digital Strategies
Natasha Mahapatro, Communications Manager at Mobile Future
Becka Wall, Digital Media Manager, NARAL
Dinner 13: Political Action Team
So You've Been Disenfranchised: How to Resist as a D.C. Resident
Conventional wisdom dictates that responding to the Trump agenda means writing, calling and bird dogging representatives to vote "no," and kicking them out of office if they refuse. But the District is anything but conventional, given that our Representatives don't have a vote in Congress. "So You've Been Disenfranchised" will focus on how D.C. residents can stay politically engaged without a vote in Congress, ranging from grassroots activism, local politics, and the movement for statehood. We'll hear from D.C. activists and politicians on how they've been able to stand up for the District.
Hosted by Judy Waxman
Confirmed Speakers:
Sarah Novick, DC Organizer, Jews United for Justice
This dinner is SOLD OUT!
Dinner 14: Political Trainings Team
What I Wish I Knew: Getting My Start in D.C.
Wondering how to navigate a career in politics? Join the political trainings network for a candid conversation with women who have been there and done that. Discuss how the political climate has changed in recent years and what that means for career trajectories in politics & advocacy. Our speakers will share what they wish they knew when they started to help attendees map out their success.
Hosted by Jennifer Philaja
Dinner 15: Practice Your Politics Team
The Future is Female
The Future is Female premise is to highlight the importance of empowering girls for leadership through advocacy. We know that when women succeed our country succeeds and that there is a need and desire to cultivate this at a young age. We want to help provide the basic tools to make sure we, as women, are doing everything we can to make sure we're engaging them.
Hosted by Holly Shulman
Dinner 16: Professional Development Series
#SquadGoals for a #LadyBoss
Women are swaying elections, disrupting industries and reshaping America's cities. The only way to get more women at the top is to work together and when more women are in charge, everyone's a WINner! Come listen to networking and mentoring experts on how to find a career squad that empowers, engages and inspires one another to leave maximum impact
Hosted by Alayna Buckner
Confirmed Speakers:
Janice Omadeke, The Mentor Method
Rachel Koretsky, Founder, Upace
Dinner 18: Women's Health Policy Network
Side Hustles: How to make your Weekend Hustle Something Concrete
How do you spend your time after work? Volunteering? A second job? Whatever your "side hustle" is, we all have one. Sometimes, we have our full time jobs, and pursue our dreams on our "free time." Why can't we pursue our dreams on the job? Join us and discuss side hustles, why we pursue them, and how you can turn your hustle into something concrete!
Hosted by Darcy Scott and Amy Pritchard
Confirmed Speakers:
Lea Berry - Life Coach, Lea Berry Coaching
Emily Goodstein - Photographer at Emily Goodstein Photography; Strategist at Emily Goodstein Consulting
Clara Tsao, Chief Technology Officer, Countering Violent Extremism Task Force, Department of Homeland Security; White House Presidential Innovation Fellow
Dinner 19: Women in Law Network
Earn It: Negotiating Your Worth
When you got a job offer, did you attempt to negotiate? Studies show only 7% of women negotiate their salaries. We all negotiate every day, in our jobs, in our homes, and on behalf of others. This discussion will offer tools and strategies for successful negotiations, with a focus on gender differences and gender stereotypes. Join us and realize the amount of leverage you have at the negotiation table, More importantly, learn how to keep it and use it to your advantage.
Hosted by Jennifer Wechter
Confirmed Speakers:
Alyssa Best, Career Coach
Maggie Germano, Maggie Germano Financial Coaching
Dinner 20: Women in STEM
Let's Get Political: STEM Activism in the Trump Era
With the momentum of the March for Science and the People's Climate March, now is the time to stand up and speak out on behalf of STEM before it is too late. But getting involved is easier said than done; what are the most effective ways to be an activist/advocate, and what tools do you need if this is new to you? Join us for a conversation about political action and advocacy, the importance of STEM, resilience, and what STEM activism from non-STEM workers can look like. This dinner is open to those who work in STEM, are affiliated with STEM, or just want to learn more about current STEM political issues.
Hosted by Alliance for Justice
Confirmed Speakers:
Charise Johnson, Research Associate, Center for Science & Democracy
Melissa Varga, Outreach Associate & Science Network Community Manager, Union of Concerned Scientists
Dinner 21: Women of Color Network & Membership Ambassadors
Women of Color Leading in Traditionally White Spaces
We know that representation matters, but how do you navigate spaces where you're the sole 'representative'? This dinner will explore the challenges & successes of women of color who lead where they may be one of few. Join us for an engaging conversation with women who navigate these spaces every day and learn what keeps them motivated to continue leading, despite the challenges.
Hosted by Joi Chaney and Erika West
Confirmed Speakers:
Toya Gatewood, Salesforce
Maya Raghu, Director of Workplace Equality & Senior Counsel, National Women's Law Center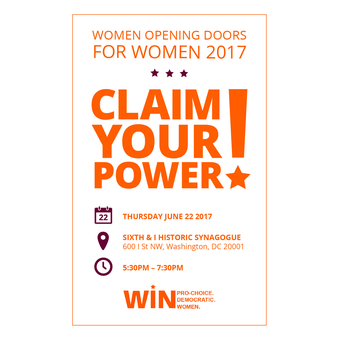 600 I St NW, Washington, DC 20001, USA